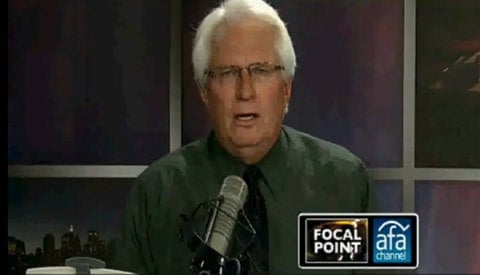 The Boy Scouts have a close relationship with AFA's Bryan Fischer and reassured him that they wouldn't be relenting on their anti-gay policies after he raised a stink about it on his hate broadcast.
Listen, AFTER THE JUMP…
Asks Jeremy Hooper: "Did the Boy Scouts call GLAAD? HRC? Did they reach out to any of our groups to discuss their policy, or did they confine their outreach to a man who once said that 'Homosexuality gave us Adolf Hitler' (among countless other things)?"
The NYT reports on yesterday's announcement:
Under growing public pressure to reconsider the issue, in 2010 the Boy Scouts formed a committee of 11 "volunteers and professional leaders to evaluate whether the policy was in the best interests of the organization," the statement said. The committee "included a diversity of perspectives" and engaged in "extensive research and evaluations," the statement said. But the committee was kept secret until now, and the Scouts declined to reveal its membership or methods.
Meanwhile, Eagle Scout Zach Wahls and ousted den mother Jennifer Tyrrell responded to the news.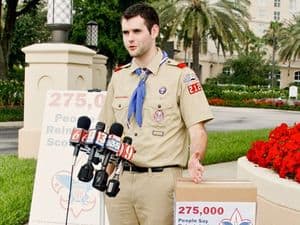 Said Wahls, slamming the group's secrecy:
"This announcement is old news. We've heard this line before, and I'm sure they'll keep saying this until the day they decide to change the policy. This announcement, moreover this 'process,' is just a distraction. We know where this is headed.. Above all, what is most disappointing about today's announcement is the secretive nature surrounding how this conclusion was reached. The very first value of the Scout Law is that a Scout is trustworthy. There is absolutely nothing trustworthy about unelected and unnamed committee members who are unwilling to take responsibility for their actions."
Added Tyrrell, who will deliver 300,000 petitions to Scout headquarters today:
"A secret committee of 11 people can't ignore the hundreds of thousands of people around the country — including thousands of Eagle Scouts, scout families, and former scouts — that want the ban on gay scouts and scout leaders removed. This campaign doesn't stop, and we will continue to show the Boy Scouts that discrimination and intolerance have no place in scouting. On Wednesday, I look forward to sharing with the BSA thousands of comments from families like mine that say the time is now to end this anti-gay policy."