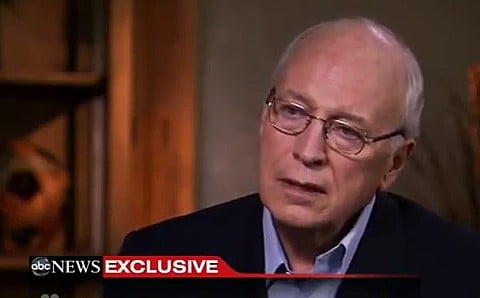 Dick Cheney told ABC News that even though he supported same-sex marriage during the 2000 campaign he saw no advantage in making it publicly known:
The former vice president suggested it wouldn't have done much good and probably would have sunk President George W. Bush's prospects for office. "Why?" he responded to ABC News when asked in a televised interview whether he should have pushed harder for gay couples to marry.
Cheney also talked about his daughter Mary's recent wedding to Heather Poe:
"I'm sure it was fine. We wished them well. She wanted to avoid having it be a media circus or having it become part of the political debate. So Lynn and I were very proud and happy and congratulated them."
As Brandon noted yesterday, this is the same interview in which he called Sarah Palin a "mistake". Though there's no clip of his marriage remarks, you can watch him discuss Palin, AFTER THE JUMP…