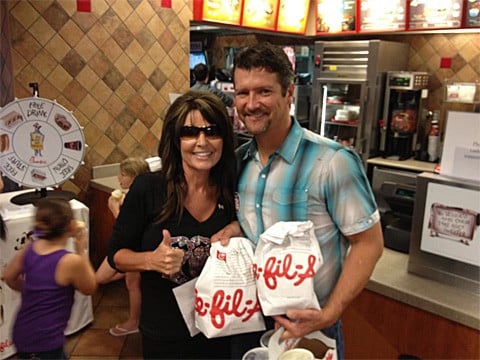 The controversy caused by Chick-fil-A COO Dan Cathy's interview, in which he said the company was "guilty as charged" for making large donations to anti-gay causes, has not been good for the restaurant's brand, GLAAD reports:
Chick-Fil-A and the Top National QSR Sector were measured with YouGov BrandIndex's Index score, the company's flagship brand health measurement. The Index score is an average of key scores measuring quality, impression, value, reputation, satisfaction and willingness to recommend. All measurements were filtered for adults 18+ who have eaten fast food in the past month. The Top National QSR sector average includes such brands as Pizza Hut, Arby's, Papa John's, Domino's, Taco Bell, KFC, McDonald's, Burger King, and Long John Silver's.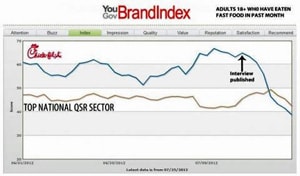 Chick-fil-A's index score has dropped 26 points since Dan Cathy's interview:
YouGov BrandIndex measurement scores range from 100 to -100 and are compiled by subtracting negative feedback from positive. A zero score means equal positive and negative feedback.
On July 16th, the day the Baptist Press published its Dan Cathy interview, Chick-Fil-A's Index score was 65, a very substantial 19 points above the Top National QSR Sector average score that day of 46.
Four days later, Chick-Fil-A had fallen to 47 score, three points below the Top National QSR Sector average score of 50. This past Wednesday, Chick-Fil-A had a 39 score compared to the Top National QSR Sector average score of 43.
Sarah Palin's feeling good about it though, as evidenced by this photo published to her Facebook page last night. Said Palin: "Stopped by Chick-fil-A in The Woodlands to support a great business."