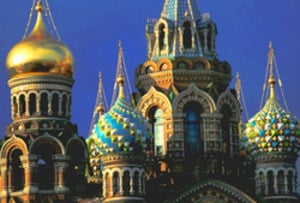 Defying a ban on gay pride in St. Petersburg, Russia, activists and allies there say they'll march this Saturday, following a route that originally been approved by authorities, but was later cancelled. They are not, however, expecting a huge turn-out.
The Moscow Times elaborates:
Authorities authorized the parade, but the city's legal committee later reversed that decision, spokesman for the St. Petersburg governor's office Andrei Kibitov wrote Thursday on Twitter.

He said the city had revoked permission in part due to the "enormous" number of requests by residents not to allow the event.

Gavrikov called the reversal illegal and said participants would go ahead with the march and rally.

"We have in our hands the authorization given to us earlier, all the necessary papers," he said.

Gavrikov predicted that many fewer than the 300 people originally expected would attend the event because the city had rescinded permission.
It's unclear how the city will react to the march, but if they decide to crackdown, activists face fines that range from $153 to $15,300.