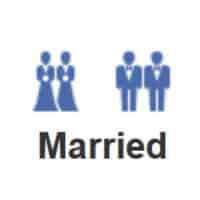 Tech companies are increasingly embracing their LGBT users. First Apple introduced an inclusive line of emoticons and now Facebook is including same-sex partner icons for its "married" status update.
GLAAD offers the details:
Facebook has rolled out a new feature providing additional recognition for its users who are married to a person of the same sex. Now these users who have indicated on their Facebook timeline that they are married will be recognized by new same-sex marriage icons, rather than the marriage icon used for straight married couples.

This change follows several notable LGBT inclusion efforts by Facebook. Last year, Facebook added 'In a Civil Union' and 'In a Domestic Partnership' options to user profiles. Facebook has also taken significant steps toward preventing anti-LGBT bullying, and created the Network of Support with GLAAD and other LGBT organizations in 2010.
The new icon comes just in time for Facebook co-founder Chris Hughes' gay nuptials.