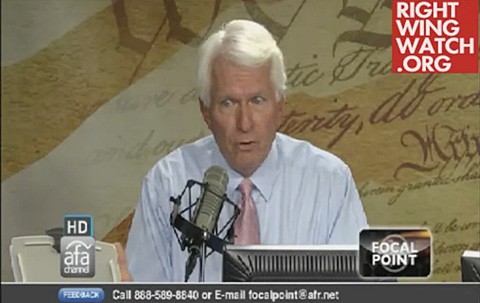 American Family Association mouthpiece Bryan Fischer calls his right-wing soldiers to action against the "intolerant" gays who are bullying Chick-Fil-A, Right Wing Watch reports:
Tolerance is not in their vocabulary. They have no tolerance for those who support the institution of the natural family. None, zip, zero. They have no room in their so-called 'diversity world' for people who believe in natural marriage. They claim to be all about diversity, but there is no room in their world for anybody that believes in traditional moral values. They're absolutely intolerant and they have no room, they're anti-diversity.
So I'm talking about this with regard specifically to Chick-fil-A. And I am pointing out specifically that the bullies at Big Gay are coming after Chick-fil-A. They're trying to take them out, they're trying to obliterate them, they're trying to go Ahmadinejad on Chick-fil-A, they want them wiped off the face of the map. Let's make it our goal to buy out every chicken sandwich that Chick-fil-A makes on August 1. Let's have them run out of chickens, let's send them out behind the restaurant with an ax to cut the heads off of more chickens to feed people because they're selling so many chicken sandwiches.
Watch, AFTER THE JUMP…