Gawker is offering a payday for information they feel is missing from PBS's Frontline documentary, AIDS in Black America: the identify the person who transmitted HIV to Magic Johnson.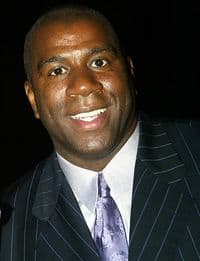 About three years ago, while I was editor at Deadspin, there was talk of a Hollywood Babylon-level conspiracy that was making the rounds in the LA nightlife scene. The story went that Magic, like most of his Los Angeles Lakers teammates, was caught up in so many orgiastic LA house parties and had so many random groupie f**k-buddies that tracking down Magic's female Patient Zero would be almost impossible. But then, another source said that Magic's ex-teammate, Norm Nixon, had started floating a different scenario: that Magic most likely contracted HIV during an infamous sex party at Eddie Murphy's mansion, where often times, transexual hookers were involved.
Obviously, Murphy's transsexual, uhm, "interests" were already publicized after his embarrassing pull-over incident in 1997. Our source pressed a little bit and never tracked down Nixon, but said he had other people willing to verify Magic's non-female proclivities on the record. The source would only do so for a large sum of money that was too expensive for Gawker Media, let alone Deadspin.
The female-to-male HIV statistics from that time suggest even with Magic's super-sized sexual prowess, he was still in a very, very small percentage…
…If anyone has any more information about who gave Magic Johnson HIV, please feel free to contact us. I think we can afford to pay more money for this now.
So much for the new age of 'quiet' outing.