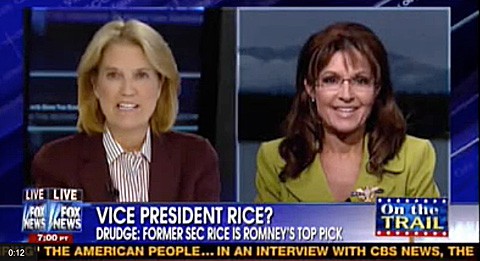 Matt Drudge "unlocked the insane asylum" of the media, according to Greta van Susteren, when he suggested yesterday that Condoleezza Rice was the top pick for Romney's running mate, and given who showed up to talk about it…
Says the unwisest VP pick in recent memory:
"I would certainly prefer a presidential and vice presidential candidate who had that respect for all innocent, precious, purposeful human life and show that respect via being a pro-life candidate. We need to remember though that it's not the vice president who would legislate abortion. That would be Congress's role, and, uh, we'll keep that in mind."
Watch, AFTER THE JUMP…