Romney and Cheney "likely stole some time" earlier in the day for a private meeting, but Mitt refused to tarnish his image with Dick in public, the NYT reports: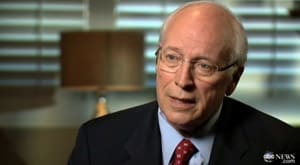 Mr. Cheney remains unpopular with many Americans, and Mr. Romney's team went to great lengths to avoid any public images of the two men together. When Mr. Romney arrived at the reception, he greeted Mr. Cheney with a handshake and Mr. Cheney's wife, Lynne, with a kiss, but reporters who were within view were promptly escorted out by the campaign. (Typically, the campaign does not allow photos or videos inside its fund-raisers.)
Mr. Romney, who largely avoids mentioning former President George W. Bush and Mr. Cheney on the campaign trail, did not mention Mr. Bush at the first reception, which was open to a press pool. But once at Mr. Cheney's private residence — which backs up to a golf course — a pool reporter within earshot of Mr. Romney's remarks heard Mr. Romney invoke Mr. Bush but was not able to make out the context, and was again escorted away by a campaign staffer.