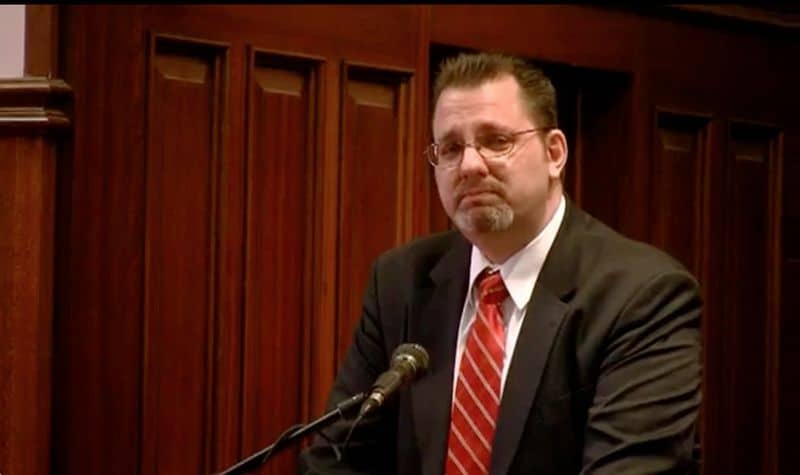 This link leads to a funny, poignant personal essay from Kevin Kloosterman, an outspoken advocate for LGBT rights who also happens to be an ex-Bishop in the Church of Jesus Christ of Latter Day Saints. He came out as an ally to LGBTfolk two years ago, when he was still Bishopping. Life got weird, fast.
Kloosterman was not always an ally. He was turned into one by Queer Eye For The Straight Guy. Kloosterman describes his transformation like so:
I would watch the show and imagine what it would be like for them to be in a Mormon bishop's home, which is probably considered the heart of enemy territory by some in the gay community since Proposition 8. There was something about the spirit of these men that seemed to break barriers of orientation, politics, and even religion. Perhaps like every other fan, I considered them to be more familiar than reality would dictate. Then something that Carson said in his cheeky manner struck me like a thunderbolt. He said, "We are very pro traditional marriage." Those words echoed in my mind for months and months. It seemed to disrupt and challenge a deeply held belief that the traditional family was under attack by a so called "gay agenda." 

That belief was dismantled at that moment and I realized that these good men had no desire to hurt me, my marriage, or my family. On the contrary, if they were in my home, I could only see them supporting me, my traditional marriage, and my family.  
(The contrapuntal statement to that one, it seems, would be that many conservative Mormons and other religious types really do believe that gayfolk want to hurt them, their marriages, and their families, which is a terribly sad thing to think about.)
Kloosterman is apparently not the sort of person who can recognize a grave moral wrong and do nothing about it. So he flew to Utah to share what he'd learned with his heterosexual co-religionists — to tell them they'd misunderstood the gay community entirely. His message was not received with uniform friendliness:
When the story broke that a sitting bishop had flown from Illinois to Utah to call for straight members to do more to reach out to LGBT individuals in and out of the church, the two major newspapers in Utah saw the talk in radically different ways, which created controversy. The reaction continued to be mixed as the story moved to talk radio. Mormons of the more conservative variety called for me to be excommunicated. There was one extremist blog even wishing "apostates could be executed" juxtaposed with my name, my wife's name, our home address and work address for all to see as well as calling for "blood atonement," which is primitive Mormon talk for execution.

My coworkers advised me to file a police report and the blog was taken down soon thereafter. The trauma of that experience though has not been easy on my wife or our marriage.
… nor on Kloosterman's relationship with his church. His essay doesn't mention why he went from "Bishop" to "ex-Bishop," but it seems to have had something to do with his attitude towards the LGBT community. He now treats advocacy work as as a serious avocation, just as he once practiced ministry.
Please do take the time to read the article. It's a fascinating view of a transformation that most of us, for obvious reasons, need never undergo. (Also: Kloosterman's semi-obsessive paeans to each of Queer Eye's Fab Five somehow manage to be creepy and totally charming at the same time, which is a pretty rare feat.) 
And, if you like, have a look at Kloosterman's tear-soaked speech at "Circling The Wagons," last year's conference "in support" of LGBT LDS's. It's extremely religious — one cause of Kloosterman's evident distress is surely that he's condemning his religion's conduct while trying to maintain his faith in its truth, which must require some painful mental contortions. I hope he feels better soon. Watch AFTER THE JUMP …