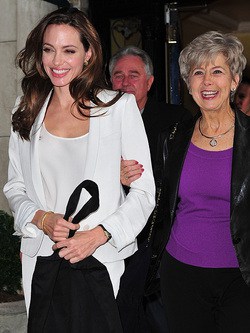 Wow. Few op-ed pieces in local papers have received as much attention as the one penned by Brad Pitt's mom Jane.
Mrs. Pitt praise of Mitt Romney and admonishment of President Obama for his marriage equality immediately went viral, making Mrs. Pitt an instant right wing celebrity, Today Show topic and now it's tabloid fodder.
According to Star magazine source, Angelina Jolie, potentially a future Mrs. Pitt herself, is "steaming mad" over the letter and wants Brad to "educate his mother."
"If Brad won't do it, Angelina will have to take matters into her own hands and talk to Jane about how, as the mother of such a prominent celebrity, she shouldn't be writing letters that clash with her son's political opinions."
If this is true — IF — and I were Jane Pitt, I would go with "mama's boy" Brad, because Angelina… she could take almost anyone.