A lesbian couple expecting a child were asked to leave E.C. Million Park in Richmond, Kentucky while having a maternity photo shoot over the weekend after one of their companions was told "those type of people were not welcome" there, the Richmond Register reports: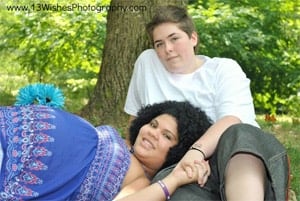 Cheri Chenault and her partner, Destiny Keith, are expecting a baby boy on Sept. 29, and they were having maternity pictures taken by Jessica Miller-Poole, owner of 13 Wishes Photography.
"I had picked one of the flowers (in the park) and was going to use it in the picture," Miller- Poole said. "The gatekeeper said we were not able to pick the flowers. He left, and we continued to take pictures."
Miller-Poole then said she asked the couple if they wanted a picture of them kissing.
"They were a little reluctant, and they kissed so quickly that I wasn't even able to take a picture of it," she said.
After that, the park gatekeeper approached them again.
"He said that we had to leave and that it was inappropriate," Miller-Poole said.
Miller-Poole's husband accompanies her on all photo shoots, she said.
"He talked to the man and said that if it was because they were two women, that he wanted to know," Miller-Poole said. "The man said, 'Those type of people were not welcomed there,'" she said. "My husband ended up getting very angry and had to walk away."
Read the full story HERE.