Another request for the Supreme Court to consider a case challenging DOMA was filed today, by Massachusetts Attorney General Martha Coakley, Reuters reports: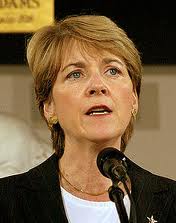 "The Defense of Marriage Act is a discriminatory and unconstitutional law that harms thousands of families in Massachusetts and takes away our state's right to extend marriage equality to all couples," Coakley said in a statement. "It is our firm conviction that in order to truly achieve marriage equality, all couples must enjoy the same rights and protections under both state and federal law."
Coakley's 37-page brief asked the nation's highest court to uphold the decision that found denying federal benefits to married same-sex couples was unconstitutional.
The brief said that the state "normally would oppose further review in order to ensure that the judgment takes effect as soon as possible" but added that "the Commonwealth recognizes that DOMA's unconstitutionality is a question of national significance."
"It is important that the Court address the matter in a case that presents the full complement of DOMA's constitutional infirmities," the brief said.
Judge Joseph Tauro (a Nixon appointee!) ruled DOMA to be in violation of the 10th Amendment, the amendment guaranteeing states' rights, in July 2010.
Coakley's filing today was in response to a June 29 filing by Rep. John Boehner and his fellow Republicans on the GOP-controlled House Bipartisan Legal Advisory Group, which petitioned the Supreme Court to rule on a First Circuit Court decision upholding the ruling striking DOMA down.