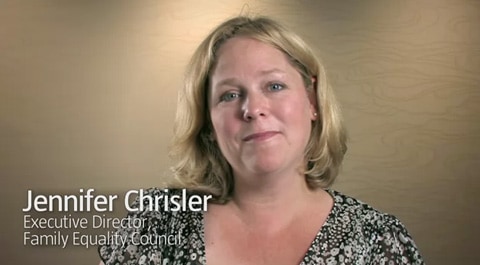 Jennifer Chrisler, Executive Director of the Family Equality Council, is featured in one of the first web videos from the "Mitt Gets Worse" campaign, organized to bring attention to Mitt Romney's anti-LGBT agenda.
The Boston Globe writes:
The "Mitt Gets Worse" campaign, launched Wednesday by the Courage Campaign Super PAC and American Bridge 21st Century, is a compilation of video testimonies from people who describe Romney as insensitive and willing to put his political ambitions ahead of equality. The campaign's website also features video of Romney discussing LGBT rights as far back as 1994, when he ran unsuccessfully for US Senate.
If elected president, the super PACs suggest, Romney would roll back protections for LGBT citizens — perhaps pushing for a federal ban on gay marriage, which he supports; defending the Defense of Marriage Act in court, which the Justice Department has ceased to do under Obama; and undermining the repeal of the military's "Don't Ask, Don't Tell" policy.
Watch four of the first testimonials, AFTER THE JUMP…