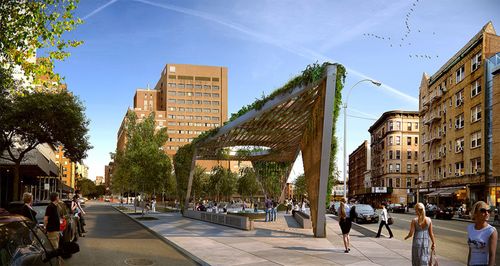 Manhattan's Community Board 2 approved a new design for a New York City AIDS Memorial in Greenwich Village on a 17,000 square-foot triangle-shaped plot of land bordered by Seventh Avenue, 12th Street and Greenwich Avenue, opposite the former St. Vincent's Hospital.
The park's planners tell us:
In their presentation to Community Board 2, the design team issued the following statement: "The memorial is composed of three inter-connected elements that are inspired by the shelter provided from a dense grove of trees, and the visual impact created when trees within that canopy are lost.  The elements include a planted canopy creating a sheltered area that defines the memorial space, a reflective water feature providing a focal point for meditation, and a narrative surface design of concentric rings creating an opportunity for sharing and learning."
"This memorial design provides an amenity for the new park and the surrounding neighborhood, while also marking this uniquely important site and providing a vehicle for passing on facts and memories about the ongoing history of the AIDS crisis," said New York City AIDS Memorial cofounders Christopher Tepper and Paul Kelterborn in a statement.
A different, competition-winning design was rejected by the park's owner in January.
"Brooklyn, NY architects Mateo Paiva and Esteban Erlich of studio a+i, whose entry was selected in an international competition earlier this year, are responsible for the new memorial design approved by Community Board 2.  The memorial design team also includes representatives from Robert Silman Associates, structural engineering; 2×4, graphic design; and Fisher Marantz Stone, architectural lighting design," according to organizers.