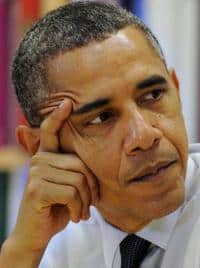 A poll last week showed a dearth of electoral enthusiasm among voters who helped catapult President Obama to the White House in 2008.
Well, The New York Times took a closer look at one of Obama's formerly loyal bases, younger voters and found that citizens who have come to voting age since then aren't as excited as their forefathers:
In the four years since President Obama swept into office in large part with the support of a vast army of young people, a new corps of men and women have come of voting age with views shaped largely by the recession. And unlike their counterparts in the millennial generation who showed high levels of enthusiasm for Mr. Obama at this point in 2008, the nation's first-time voters are less enthusiastic about him, are significantly more likely to identify as conservative and cite a growing lack of faith in government in general, according to interviews, experts and recent polls.

Polls show that Americans under 30 are still inclined to support Mr. Obama by a wide margin. But the president may face a particular challenge among voters ages 18 to 24. In that group, his lead over Mitt Romney — 12 points — is about half of what it is among 25- to 29-year-olds, according to an online survey this spring by the Harvard Institute of Politics.  And among whites in the younger group, Mr. Obama's lead vanishes altogether.