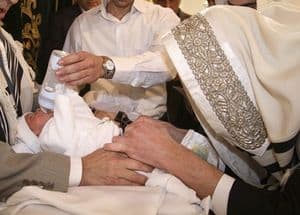 [NOTE: This post was briefly removed from the website due to a technical issue with one of Towleroad's ad networks. Sorry for the confusion.]
There is a growing sentiment in New York City that it is not, in fact, advisable to mutilate an infant's privates and then suck the blood from the wound with one's mouth.
So suggests this story, published yesterday at CNN.com:
New York City health officials are pushing a proposed regulation that would require parents to sign a consent waiver before they take part in a circumcision ritual called "metzitzah b'peh," typically practiced by ultra-Orthodox Jews. The ritual potentially poses a fatal risk to newborns, according to the New York City Department of Health and Mental Hygiene.

The legislation was proposed at a Board of Health meeting last month by Dr. Jay K. Varma, deputy commissioner for disease control for New York City's health department, after 11 infants contracted neonatal herpes between November 2000 and December 2011, after the circumcision ritual. Two of the infants died.

Jews regularly practice circumcision as part of their religion, but mostly ultra-Orthodox Jews practice metzitzah b'peh, during which the mohel, or person performing the procedure, orally sucks the blood from the infant's newly circumcised [member].
A statement issued last month by the New York City Health Department notes that ten of the children who contracted herpes after the metzitzah b'peh were hospitalized. Of the eight who survived, two suffer from permanent brain damage. Approximately 2,000 infants per year undergo the metzitzah b'peh in New York City.
From CNN.com:
The Department of Health is accepting public comments on the proposed regulation until a public hearing July 23. At the hearing, there will be a public forum where the board will consider all comments and make a final vote September 13.