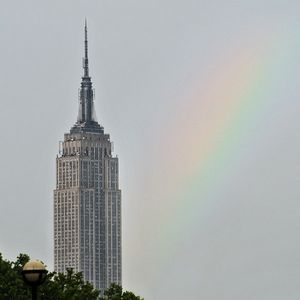 On Friday, New Yorkers For Constitutional Freedoms — whose name is not, as far as I know, a conscious attempt at irony — lost their challenge to New York's marriage equality law on Friday.
HuffPo explains the nature of NYCF's complaint :
New Yorkers for Constitutional Freedoms said Cuomo and another gay marriage supporter, New York City Mayor Michael Bloomberg, met behind closed doors with the Senate's Republican majority in violation of the open meeting law.

… New York's open meeting law requires public access to the deliberations of legislative bodies, but [Attorney General Eric] Schneiderman argued that the Republican caucus with invited guests was exempt, even if the guests aren't in the same party. In a 5-0 ruling, the court agreed.
Anti-marriage New Yorkers were famously shocked and appalled at having been out-maneuvered by pro-marriage Democrats and their allies last summer, in the run-up to the marriage vote. (New York Archbishop Timothy Dolan openly complained that his own back-room dealings with state politicians hadn't trumped the opposition's similar back-room dealings.) NYCF's complaint was the final manifestation of that frustration, and if NYCF had won, it would have essentially meant that no Democratic and Republican lawmakers could ever again chat about issues of import without the whole world watching.  The Appellate Division of the state Supreme Court realized such strictures wouldn't be especially conducive to smart governance. From HuffPo:
"In the event that we were to adopt plaintiffs' limited definition of `guests,' it would be impossible for a Democratic member of a governor's office, such as a budget director, to speak to a majority Republican caucus," according to the [Appellate court's] decision.