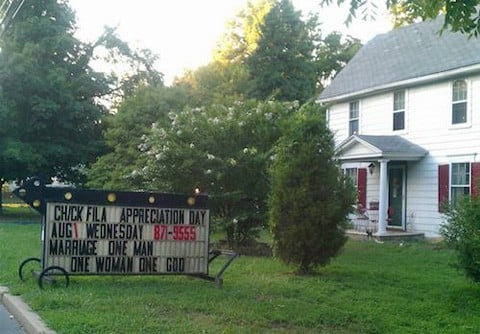 Joianne Fraschilla, a lesbian mother, is planning a protest after seeing an anti-gay sign promoting "Chick-fil-A Appreciation Day" and "One Man One Woman Marriage" posted outside the Whitebriar Bed and Breakfast (which also has an 'animal farm') in her town of Edgewater Park, New Jersey, and writing the owners on Facebook to express her disappointment:
"This is somewhere my son loves to pass by and we have been excited to visit. Not anymore. I'm sad to see a local business anti LGBT marriage."
She was not prepared for the response she received:
Isn't it wonderful Joanne Fraschilla, that you and your son can enjoy the animals here because I have a traditional marriage with a husband who works with me 90 hours a week to take care of these animals, and the summer camp….we're 66-68 years old….there were no gays or queers in our time…..if two old ladies chose to live together..so be it, let them deal with God when they get there…but to have the "face sucking" thrown in my face of two gay lesbians who are totally destroying the "normal balance in a child's life" as you claim your son…where is the role model that your son needs to know how to act like a man? or will he only see the "one sided selfishness" of a "single parent"…and end up an out cast in society by being "gay" himself because he didn't have a father as a role model. I'll pray for you….remember what the bible says: "Lay down with dogs, get up with fleas"…..guess that's why God invented aids….
THIS LOCAL BUSINESS WILL BE ONE MAN ONE WOMAN ONE GOD MAKES MARRIAGE….AND PROUD TO DO SO….YOU SHOULD BE SO LUCKY TO OWN YOUR OWN BUSINESS
Now she's planning a protest and wants the owners to apologize.
(via good as you)