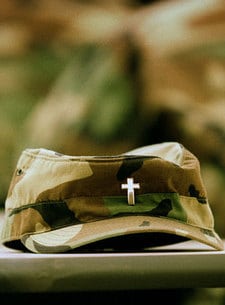 When the nation was debating whether or not to repeal Don't Ask, Don't Tell, the 90s-era legislation barring gay and lesbian service personnel from coming out, conservative religious leaders warned the law's end would lead to a mass exodus of anti-gay military chaplains. It turns out that's not the case.
From Utah's Standard-Examiner:
[Chaplain Col. Timothy Wagoner], who commands five other chaplains at Joint Base McGuire-Dix-Lakehurst in central New Jersey, said the chaplaincy corps was responding professionally and collegially to what he called a "balancing act" precipitated by the repeal.
…
[Archbishop Timothy Broglio of the Archdiocese for the Military Services] concurred with the estimates that only a handful of chaplains have left the military because of the repeal. He said "two or three" Catholic chaplains had resigned their commissions in recent months, and guessed that repeal may have been a factor though they didn't cite that specifically.
…
Bishop James Magness, the coordinator for about 75 active-duty and reserve Episcopal chaplains, said he'd heard a common, positive verdict about repeal from his more conservative Catholic, Mormon and Southern Baptist colleagues.

"The whole argument about religious liberty is so incredibly uninformed, and inflamed by some of the very conservative legal groups," Magness said. "In reality, there's been very little if any of the services forcing any ministerial activity on a chaplain against his or her will."
Wagoner described the post-DADT as a "balancing act," one in which gay and lesbian soldiers' lives are just as important as individual chaplains' opposition.