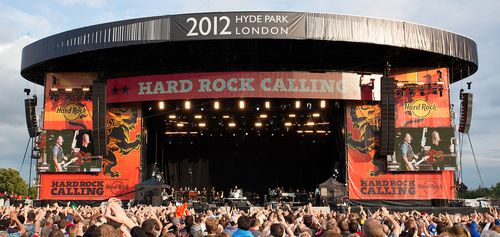 (Apologies for occupying your attention with this news, which is neither gay-related nor Earth-shattering. But the gall! The gall of it!)
Bruce Springsteen headlined the second evening of the Hard Rock Calling festival in London's Hyde Park last night, in front 60,000 typically enthused fans. He hit the stage at 7:30 p.m., did his usual superhuman three-hour sweatathon — and then, as a finale, brought out Paul McCartney. CNN reports that this was the first time the men had shared a stage; a  collaboration, Springsteen said, he'd dreamt of "for 50 years." Bruce grinned. Paul grinned. They did "I Saw Her Standing There" and a rave-up on "Twist And Shout," which was just building towards some ungodly convulsive denouement when —
— the power was cut. From CNN:
At first, the Boss didn't seem to notice. He attempted to address the crowd, apparently unaware that they couldn't hear him. But as it became clear that there was no amplification, he and lead guitarist Stevie Van Zandt played what looked to be a brief a cappella goodnight for the benefit of the front rows, shrugged, and left the stage.
The plug had been pulled by the event's organizers. Hard Rock, it turns out, mustn't call past 10:30 p.m., at least in swank Westminster, where residents have for years complained of noise during the park's summer concert series. Out of concern for residents' ears, the number of concerts held in the park each summer has been trimmed from 13 to nine, and concerts are scheduled to end at 10:30 p.m. They didn't pull the plug on Springsteen and McCartney until 10:40 p.m. I'm assuming that's because McCartney's been knighted.
Hard Rock Calling concludes tomorrow evening with a set by Paul Simon.