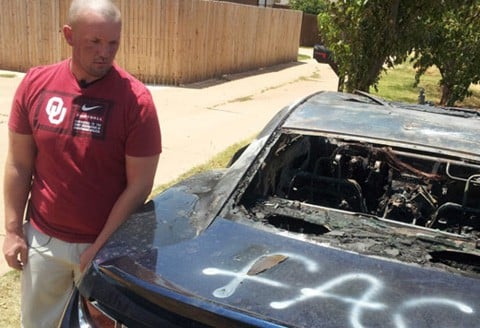 A gay Oklahoma City man is recovering from first and second degree burns after discovering two people vandalizing his car over the weekend who proceeded to throw a firebomb, News9 reports:
As Ferguson approached them, one of the suspects threw something in his Camaro that caused an explosion and fire. Ferguson rushed inside his home and called 911. He also jumped in the shower and attempted to peel parts of his melted shirt off body. One of his roommates took a photo of the burning car while waiting for fire and police crews to arrive.
Ferguson was rushed to the hospital in an ambulance with first and second degree burns to his face, arms and torso. He was treated and released. On Sunday, the 25 year old returned home for the first time since the fire. He's frustrated because he has no idea who did this; but to make matters worse, the vandals spray painted a three-letter homophobic slur on his car.
Police are treating the incident as an act of arson: "Chief Jones said if it is a hate crime, the Oklahoma City Fire and Police Departments would continue to conduct the investigation."
Watch, AFTER THE JUMP…
(via jmg)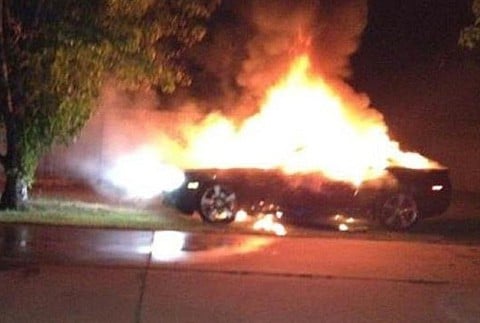 Video may take a few seconds to load…
News9.com – Oklahoma City, OK – News, Weather, Video and Sports |