A new Pew Poll on marriage equality has been released today, one day after news broke that the Democratic Party would include it as a plank in the party platform at this year's Democratic Convention.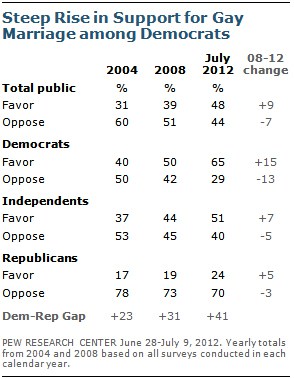 Pew Forum reports:
Just four years ago, in 2008, only half (50%) of Democrats favored allowing gays and lesbians to marry legally, while 42% were opposed. Support for gay marriage among Democrats has jumped to 65% today, more than double the percentage that is opposed (29%).
The latest national survey by the Pew Research Center's Forum on Religion & Public Life and the Pew Research Center for the People & the Press, conducted June 28-July 9, 2012, among 2,973 adults, finds that the partisan divide over gay marriage continues to widen. Just 24% of Republicans now favor allowing gays and lesbians to marry legally, which is only slightly higher than the percentage of Republicans who supported gay marriage in 2008 (19%).
Independent support for gay marriage has grown substantially since 2008. More independents today favor (51%) than oppose (40%) gay marriage; four years ago independents were divided evenly (44% favor, 45% oppose).
Pew also says that Obama's endorsement of marriage equality was largely uninfluential. Read the whole report HERE.

In related news, Eleanor Clift at the Daily Beast writes about the marriage equality plank and what it means for both parties:
A Democratic strategist who declined to speak on the record says that in the two months since the Journal article, the candidates in question have had no difficulty asserting their independence on this issue. And with the economy such a dominant issue on the campaign trail, there isn't an active debate about a social issue where the level of acceptance has increased so significantly. "It's a net positive for Democrats as a whole because it generates a tremendous amount of enthusiasm in our base, and I don't think we lose a single independent vote," says the strategist.
With the Republicans poised to include support for traditional marriage in their party platform—a stance backed by Mitt Romney—the Democratic strategist takes it one step further. He says he believes there is "greater vulnerability for George Allen [running in Virginia] and Scott Brown [running in Massachusetts] to appear anti-equality. Ask Republicans if they are going to actively make this a campaign issue—I don't think any of them will say yes."