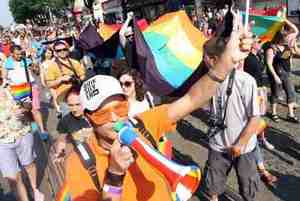 Despite calls for violence from nationalist and conservative religious leaders and one small skirmish, gay pride went swimmingly in Sofia, Bulgaria, yesterday.
From Christian Science Monitor:
Organizers said yesterday's parade, the biggest yet held in Bulgaria, is a step forward in highlighting the importance of tolerance for the gay community, but that there is a long way to go in broadening acceptance of homosexuals in society in the region.

"Everything was perfect," says Marko Markov, one of the parade organizers. "For four consecutive years there has been no violence at all at the parade itself, though we were very concerned this year. The far right is very loud but they know they can't harm us."

…One participant had been attacked in the center of Sofia after the march, but was rescued by passers-by.
No doubt the 600 police officers sent to the event, which drew about 1,500 to 2,000 pro-gay people, including ambassadors from the United States and England, helped dissuade the 200 counter protesters from getting too rowdy.