A long-expected move. Buzzfeed's Chris Geidner has the details: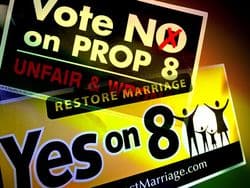 Specifically, they ask the court in a filing today to decide "Whether the Equal Protection Clause of the Fourteenth Amendment prohibits the State of California from defining marriage as the union of a man and a woman."
Arguing that "[u]nique recognition of a unique relationship in no way disapproves or dishonors other relationships that the State has chosen to recognize differently," the Proposition 8 proponents ask the court to take the case to correct the "manifest errors" of the U.S. Court of Appeals for the Ninth Circuit and "to return to the People themselves this important and sensitive issue."
Opponents of Proposition 8 filed the lawsuit challenging the 2008 ballot measure in 2009. The group behind the challenge, the American Foundation for Equal Rights, succeeded at the trial and appeals-court level. They and the state defendants will now have 30 days to respond to the filing, called a petition for a writ of certiorari, before the Supreme Court decides after its summer recess whether it will take the case.
More here.