A U.S. District Court in Connecticut has declared DOMA unconstitutional, in the case of Pedersen v. OPM.
Chris Geidner on U.S. District Court Judge Vanessa L. Bryant's decision:
Bryant — appointed to the bench by President George W, Bush on April 2, 2007 — found that laws that classify people based on sexual orientation should be subject to heightened scrutiny by courts — as the Department of Justice and plaintiffs argued in the case — but found the provision of the 1996 law unconstitutional "even under the most deferential level of judicial scrutiny."
The House Republican leadership had defended the law's constitutionality in court, through its 3-2 majority on the House Bipartisan Legal Advisory Group. The group has been defending the law since the Obama administration stopped defending the law in February 2011.
Here's the ruling (PDF)…
Here's what our legal expert Ari Ezra Waldman wrote about the case back in November 2010: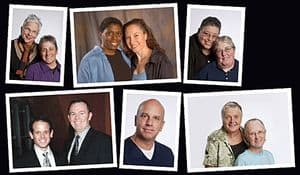 …the plaintiffs in Pedersen are being denied federal benefits because of the federal definition of marriage even though they are legally married in states like Connecticut or New Hampshire, for example. The lead plaintiff, Joanne Pedersen, is retired from the Department of Naval Intelligence but is unable to put her same-sex spouse on her health plan. The other plaintiffs cannot get leave under the Family and Medical Leave Act or benefits through Social Security. GLAD is seeking a declaration that DOMA's one-man-one-woman definition of marriage discriminates against these plaintiffs because it denies them benefits all straight couples can get.
In one sense, then, this case is about tangible benefits, the monetary accouterments of being married. Those benefits are significant — death benefits help pay end-of-life costs, health care costs can skyrocket. The case is also an "as-applied" challenge, meaning it is about the denial of benefits to these specific plaintiffs. This fact distinguishes this face from Log Cabin Republicans v. United States, which was a facial challenge to Don't Ask, Don't Tell. In the case of an as-applied challenge, the plaintiffs argue that a given law is discriminating against them in the provision of benefits — someone had to try to get those federal benefits before bringing the case; in the case of the facial challenge to DADT, the LCR is bringing the case on behalf of its members who have been dismissed, couldn't join the military or would join the military if they were applied to serve openly.
But, just because this case hinges on the denial of benefits and only refers to these plaintiffs does not make it a pure issue of money. GLAD notes that this is discrimination, pure and simple, and as-applied challenges can result in the declaration of the entire statutes as unconstitutional just like facial challenges.
This case has a strong likelihood of success.