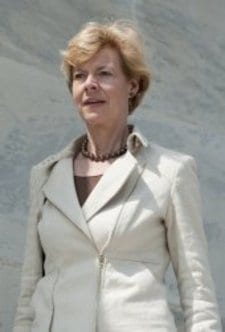 A Public Policy Polling survey from last week showed Wisconsin Senate hopeful Tammy Baldwin ahead of all three major Republican candidates she may face come November.
Considering the numbers and reflecting on his time following her on the trail, New York Times journo Frank Bruni penned an op-ed yesterday in which he argues that openly gay Baldwin's campaign exemplifies the shifting national opinion on gay rights:
Baldwin, a Democrat currently serving her seventh term in the House, won't know until mid-August which of four Republican aspirants she'll face and precisely what kind of fight she's in for.

But I don't think its outcome will be governed by whom and how she loves. Not in 2012. Not with all the change afoot.
…
Before entering the Senate race, she had research done on her vulnerabilities. It suggested that her sexual orientation wouldn't be a useful weapon in attacks against her, she said.

Only once as I shadowed her did it come up, when a supporter sought advice on how to discuss it with others. She told him to focus their attention on what the election was really about: economic opportunity, security and fairness.
In addition to benefitting from her popular policies and the fact that homosexuality has become more commonplace, Baldwin will also be receiving some aid from LPAC, the new super PAC formed to fight for women's and gay people's rights.