Kristine Chapa, the 18-year-old Texan who was shot by a gunman in the head last month, has left the hospital and entered a rehab center. She continues to make progress, NBC Latino reports: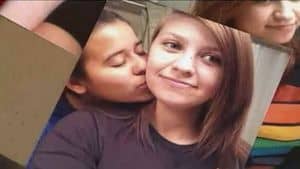 "She's doing awesome," says her brother Hilario Chapa, who marvels at the progress his sister has made. "One of the last days at the hospitals her friends were able to come and see her and she lit up."
The tech sergeant in the Air Force reserve says doctors are going to give his sister an evaluation and are working on a timetable for her, which will help his family understand more about her upcoming medical journey.
"She's in neurological rehab, getting her speech and her way of thinking better," he says. "She also is in physical therapy to help strengthen her left side and mental therapy as well."
Chapa and her girlfriend Mollie Olgin were shot in a public park in Portland. Kristine was told of her girlfriend's death last week as well: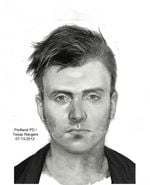 Her brother says the time came to tell Kristene what they had been holding back – news of the death of her girlfriend, Mollie.
"She didn't know about Mollie for the longest time, but we finally decided to tell her," he says, adding that law enforcement officials were present to help with the delicate situation, along with the Olgin family. "With that support group we passed the info to my little sister. She was brokenhearted, very upset."
Hilario says he didn't know what to tell her. "They told us you have to let her cry. I didn't want to tell her not to cry. But Mollie's father (Mario) is a very good man, considering he lost his daughter. He comes to visit her and when he does she gets emotional but he is supporting her. He wants to go visit her in rehab."
Kristine has been able to help police put together a sketch of the shooter (above, right) as Brandon reported yesterday. See it here. A donation page to help Kristine's family in paying for medical expenses has been set up here.