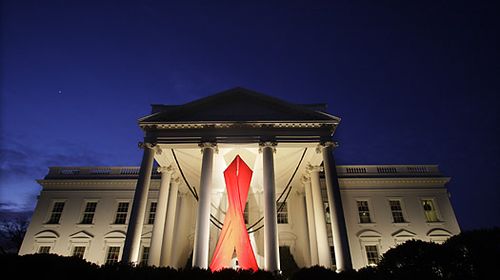 Today in Washington D.C., 20,000 soldiers in the fight against AIDS — doctors, writers, social scientists, public policy experts, academicians, and more — have gathered for the bi-annual meeting of the International AIDS Society. Perhaps because of the gathering, the New York Times has compiled a really excellent profile of the city's recent responses to the AIDS epidemic. It's very worth reading.
Washington D.C. hasn't always reacted well to AIDS, which may be why it's got one of the nation's highest per-capita infection rates. From the Times:
 "D.C. used to be a bureaucratic nightmare," said Dr. Anthony S. Fauci, director of the National Institute of Allergy and Infectious Diseases, which is just three subway stops outside the city, in Bethesda, Md. When Adrian M. Fenty took office as the mayor of Washington in 2007, Dr. Fauci said, "it was a whole new morning in America."

The change is evident on many fronts … The city gave away five million male and female condoms last year, 10 times as many as it did in 2007. More than 300,000 clean needles a year are given away, both to heroin users and to an even higher risk group: transgender prostitutes who inject hormones.        
What's more: D.C. now offers testing almost everywhere — grocery stores, the DMV — and, in some locations, people are paid seven bucks to get tested. Of the individuals who test positive, 89% see a doctor within three days — in some cases, driven to the doctor's office by non-profit organizations hired by the government.
Though the city's good at getting newly diagnosed individuals to the doctor, it's struggling to maximize the effectiveness of tests to ensure that the most vulnerabe populations are served. From the Times:
[A] weak point is the inefficiency of random testing. Each test consumes about 20 minutes alone in a room with a counselor — and only about one of every 100 people tested at the Department of Motor Vehicles, for example, is infected. … Even at AIDS clinics here, only 2 percent of tests are positive. Many family doctors resist testing at all.        
"Contact tracing" — reaching out to a newly newly diagnosed individual's past sexual contacts — is more effective, but those who have only just learned they're infected are often unable, or unwilling, to cooperate. Now Washington is experimenting with a less fraught way of reaching high-risk individuals: a ten-dollar cash incentive for those who convince high-risk friends and acquaintances to get tested.
All the effort seems to be having an effect. The Times reports that the number of Washingtonians getting tested each year for HIV has tripled since 2007 — from 43,000 to 122,000.