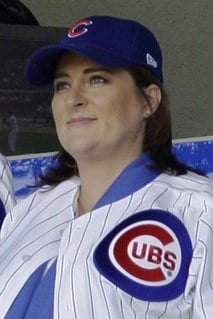 Why should boys have all the political fun? Frustrated by a seeming lack of organization among civic-minded lesbians, a group of women led by Cubs co-owner Laura Ricketts and including Jane Lynch and Billie Jean King have founded LPAC, a super PAC that will fight for women's and gay rights.
"Being a woman and being gay is really a unique position in our society," Ricketts told the Washington Post. "I know in my experience of activism, oftentimes it makes a difference if something is women-focused. It's likely to get the attention of women much more easily."
Ricketts knows a thing or two about political schmoozing: she's an Obama bundler and co-chair of the DNC's LGBT Leadership Council. And politics is in her blood: her father is Joe Ricketts, the TD Ameritrade founder and fellow Cubs owner whose political advisors suggested he resurrect the Jeremiah Wright controversy to derail President Obama's reelection.
LPAC hopes to raise $1 million to help fight measures that would ban marriage equality or hinder women's rights, they said. And though that's not a lot of money in political terms, LPAC chairwoman Sarah Schmidt says the group is as much about visibility as it is about dollars and cents.
"If it raises $5 million, amazing. But if it raises $500,000, we have still raised $500,000 for critical races and it's being raised from lesbian leaders whose voices may not have been heard before," said Schmidt, who, like Ricketts, comes from a wealthy and influential Midwest family: her forefathers began the oil distribution company U.S. Venture Inc.
The Post reports that gay activist Urvashi Vaid and former Provincetown Banner publisher Alix Ritchie sit on LPAC's central committee, while high-profile lesbians Lynch and King "also have pledged support."
King told the paper, "The formation of LPAC provides lesbians and the entire LGBT community a new, stronger voice and a real and respected seat at the table when politicians make policy that impacts our lives."