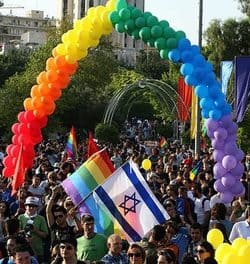 Thousands of LGBT people and their supporters are expected to participate in Jerusalem's Pride Parade today. And, yes, conservatives again plan on protesting — with donkeys!
The Jerusalem Post reports that right-wingers led by Baruch Marzel hope to drag along eight donkeys as a protest against Pride's alleged "bestiality." Police, however, have yet to give them the proper permits. This kind of thing happens every year, according to Elinor Sidi, director of the local community center Open House.
In addition to general reveling, this event, the 10th annual pride parade in Jerusalem, will feature a speech by Adam Russo, a man who was stabbed during the event in 2005, when he was 18.
"We're marking a decade of advancement in this city," Sidi told the paper. "In the first years of the parade there was terrible violence against participants, but now it has become part of the status quo of this city. Our goal for the next 10 years is not just to be seen during the one day a year of the day on the parade, but on the other 364 days per year as well."