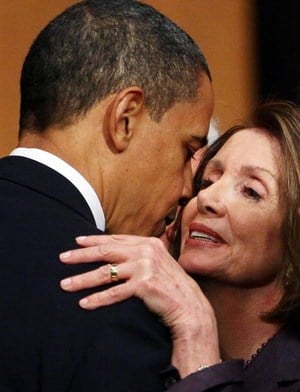 There was lots of political hoopla when the Obama Administration announced last August that immigration officials would use "prosecutorial discretion" for low-priority cases, a move the White House made out a a step forward to protecting binational same-sex couples from being separated because DOMA, which does not recognize their marriages and unions.
"The prosecutorial discretion memo provides for the use of discretion for people with strong community ties, with community contributions and with family relationships. We consider LGBT families to be families in this context," an administration official told Metro Weekly at the time.
Fast forward a year and there's been little movement, or explanation, about the rules. Hoping to put some pressure on the president, House Minority Leader Nancy Pelosi and more than 80 other Democrats yesterday sent a letter asking Obama and company to be more specific.
Chris Geidner at BuzzFeed offers more details:
In [the] letter, Pelosi — along with Reps. Jerrold Nadler and Mike Honda, the lead sponsors of two bills aimed at addressing LGBT inequalities in the immigration system, and 81 other Democrats — called on Homeland Security Secretary Janet Napolitano to "issue a written field guidance or a memorandum to explicitly state the policy of your August 18, 2011 announcement which would direct DHS personnel to consider LGBT family ties as a positive factor for the exercise of prosecutorial discretion."

The House members — including out gay Reps. Barney Frank, Jared Polis and David Cicilline — go on to say that "[a] written policy is the best way to ensure that the decision by President Obama and DHS to recognize LGBT family ties for immigration purposes will be implemented so that families will remain together."
Lawyer Lavi Soloway, founder of Stop the Deportations, told Geidner that a lack of specific codes "continues to send mixed messages to deportation officers, Immigration Judges and Immigration and Customs Enforcement prosecutors who have the discretion to protect our families and stop deportations."