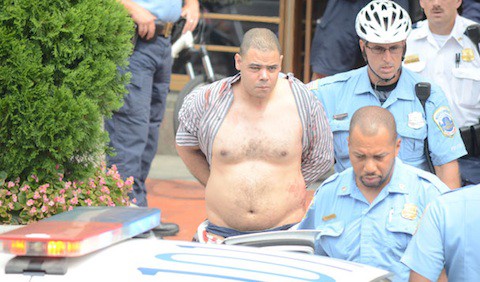 Floyd Corkins, the 28-year old accused of shooting a security guard at Family Research Council's DC HQ last week, has been indicted on both the local and the federal level.
TPM's Ryan J. Reilly offers the details:
[Corkins] has been charged with the federal offense of interstate transportation
of a firearm and ammunition and a local charge of assault with intent
to kill while armed and possession of a firearm during a violent crime.
The federal charge carries a maximum of 10 years, while the local
charges both carry a mandatory mimimum of five years.

The suspect was not, however, charged under a D.C. hate crimes law,
which offers additional penalties for crimes motivated by political
bias. Corkins allegedly said words along the lines of "I don't like your politics" before the shooting.

But David Miller, a spokesman for the U.S. Attorney's office for the
District of Columbia, left open the possibility that Corkins could be
charged with a hate crime down the line.
This brings up a question: Would FRC, which as Reilly points out have actively rejected the legal concept of hate crimes, agree with such a charge being leveled against someone accused of being their ideological nemesis? Probably.