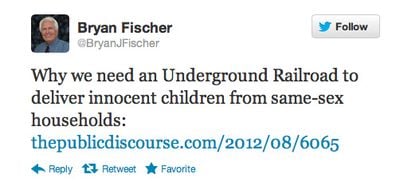 In two tweets last night, AFA radio host Bryan Fischer suggested that children of gay parents should be kidnapped for their own protection.
Zack Ford at Think Progress has more:
In one tweet  he was referring to the sad story of Lisa Miller, who, after declaring herself ex-gay, kidnapped her daughter away to Central America to prevent her former partner from having any custody. (She is still being tracked by federal agents as a fugitive of the law.)
In the other tweet, Fischer referred to the testimony of a individual named Robert Oscar Lopez, who blames all of his social problems on being raised by his mom and her lesbian partner.
Ford adds: "And yet, Bryan Fischer believes it to be the perfect example of why the children of same-sex parents should be kidnapped away for their protection — that they are the equivalent of slaves who need to be rescued. This is incredibly dangerous rhetoric that has the potential to do great harm. How much destruction could self-declared "Harriet Tubmans" do to same-sex families, motivated by Fischer's claims? More than ever, the "culture war" is a direct attack on the lives of LGBT and their families."
Adds HRC: "LGBT families are not a new phenomenon. There are over 650,000 same-sex couples raising nearly 250,000 childen, according to the 2010 U.S. Census data. Fischer's call for kidnapping children from same-sex partners is not only offensive, but a harmful mischaracterization of families that struggle daily to provide loving and safe home environments despite significant legal, financial and dignitary inequality."