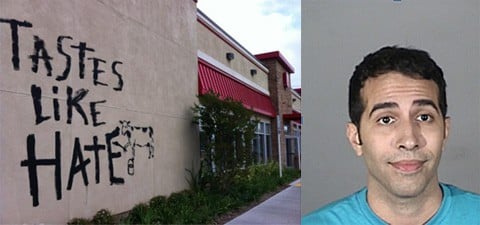 Manny Castro, the artist who sprayed graffiti on a Torrance, California Chick-fil-A in protest of the company's anti-gay donations, was finally arrested yesterday, after making himself known by publishing two statements in the HuffPost taking responsibility for the incident.
The L.A. Times reports:
Police are also looking for a second person who may have played a role in the incident.
Manuel Castro, 30, was arrested on suspicion of vandalism about 7 p.m. Wednesday in West Hollywood, said Torrance police Sgt. Steve Jenkinson…
…"Everybody is entitled to free speech, but it seems like for the gay tribe, this is more of an issue of equal rights — human rights," he said. "I'm against what these people stand for, what this company stands for. They're trying to take away what little rights we already have."
Investigators were aware of Castro's comments and worked to independently identify him as their suspect, Jenkinson said. Using "numerous items of evidence" discovered at the scene as well as information gathered during their investigation, detectives consulted with the Los Angeles district attorney's office before arresting Castro.
Castro posted $20,000 bail and was released from the city jail at 11:18 p.m.