CNN on Monday changed its electoral map, moving North Carolina from a "lean Romney" state to a "toss up" reflecting a new CNN/Time Magazine/ORC International poll: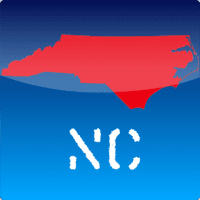 The poll, released earlier on Monday, indicates it's all knotted up in the Tar Heel state, with 48% of likely voters supporting Republican challenger Mitt Romney and 47% backing President Barack Obama.
Other polls from other organizations conducted earlier this summer also indicated a close contest in North Carolina.
"It's hard to imagine the perfect storm that helped then Sen. Obama narrowly carry the state in 2008. But at the moment the polling shows a tossup, and both campaigns say their numbers are in the same ballpark as our survey," says CNN Chief National Correspondent John King. "That, plus all the attention Democrats are about to give the state, gives us ample reason to move North Carolina to tossup."
Obama was the first Democrat to carry the state since 1976. The Democratic Convention begins in Charlotte next week.