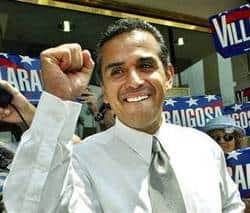 Los Angeles Mayor Antonio Villaraigosa joined the chorus of city officials speaking out against Chick-fil-A and CEO Dan Cathy.
The LA Times reports that late yesterday, deemed "Chick-fil-A Appreciation Day" by the right, Villaraigosa released a statement urging the fast food franchise to come over to the side of equality.
"Los Angeles has one of the most vibrant LGBT communities in this country," said the mayor. "I'm proud to support them as we call on Chick-fil-A's leadership to reconsider their position and join the growing majority of Americans who support marriage equality. In Los Angeles and in America, love and liberty will always triumph."