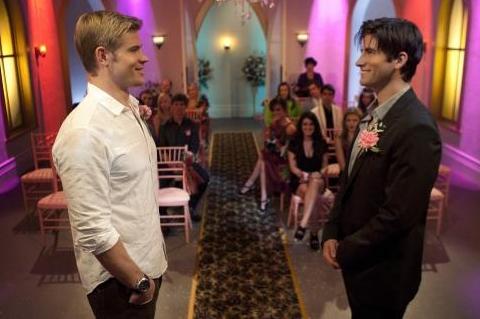 It is that time of year again: time for GLAAD's annual Network Responsibility Index, a tally of how LGBT characters are fairing on the major networks and cable channels.
Again, youth-skewing network CW came out on top with 29% of its programming hours devoted to positive portrayals of gay people, including a gay wedding on 90210.
ABC and Fox came in second and third place, respectively, while NBC again was in fourth. CBS, the network preferred by oldest Americans, still has only 8% inclusivity, meaning it is still taking up the rear on this one.
Here's the rundown on cable channels, via GLAAD:
    •    Showtime (46%), ABC Family (34%), TNT (34%), and HBO (33%) all received "Good" ratings for the quantity and quality of their LGBT-inclusive original programming.

    •    MTV (23%) which received an "Excellent" score two years ago received an "Adequate" score this year along with FX (34%), TLC (20%) and USA (17%).

    •    For the fourth year in a row TBS (5%) received a "Failing" rating, as did the History network (3%).
For all LGBT people's prime placement in prime time, there's still a huge gap in representation: 66% of these characters, either on fictional shows or reality television, are white, meaning networks and cable need to do a little work to expand their coverage.
"Including an ethnically diverse cast of characters will not only be a more accurate reflection of the LGBT community but will also give programs the opportunity to build authentic and complex storylines," says GLAAD. And, yes, transgender representation remains in the single digits: "Transgender inclusive hours recorded on broadcast television went from 0.002% last year to 0.01% this year, the number also remained extremely low for the cable networks tracked at 0.005%." Most of the storylines they observed were "exploitative and overtly negative."
The biggest highlight in pro-transgender representation was Chaz Bono's turn on Dancing with the Stars. "The appearance of Chaz Bono on Dancing with the Stars was a
groundbreaking step in transgender representation on television this
year," said GLAAD President Herndon Graddick. "His very candid appearance on the program taught
many that transgender Americans deserve respect and acceptance."