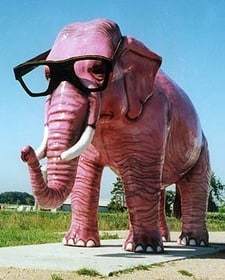 In a piece about the relatively friendly treatment gay groups like GOProud and the Log Cabin Republicans received at this year's Republican National Convention, an event traditionally hostile to LGBT people, CNN spoke to former LCR executive director Bob Kabel.
According to Kabel, the GOP will soon evolve to keep up with the times. When that evolution will take place, however, is anyone's guess.
Bob Kabel says the
evolution of the roles that openly gay people play at the convention —
and in the party itself — has been remarkable. Kabel was the chairman
of the Log Cabin Republicans from 1993 to 1999. He went on to be elected
the first openly gay person in the nation to chair a state Republican
Party, in the District of Columbia.

Early on, he says, he felt forced to
stand up at a public meeting and shame the Republican National
Convention chair into an official meeting with Log Cabin.

"The current RNC
leadership has been much better. They've been great," Kabel said. "We
feel so much more welcome, and the voices of the Tony Perkinses in the
party will be drowned out as more young people come into the party. This
is not a negative issue for young people in our party. And we are more
visible than ever."
We're certainly visible in the GOP platform, which vows to fight for a constitutional amendment discriminating against same-sex couples. Is being seen as a problem worth being seen at all?