Leading birther Donald Trump will have a "surprise" role at the Republican National Convention, Politico reports: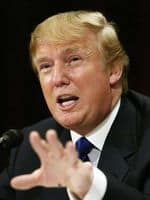 Trump has generated some buzz with recent posts on Twitter saying he was planning a "big surprise" at the convention next week. But for the first time sources are confirming Republicans will indeed enlist Trump to be part of their opening day act.
Trump's appearance will come on a day with a theme titled, "We Can Do Better," which appears likely to amount to a coordinated attack on Obama's time in office.
"We are going after Obama," said Kyle Downey, a convention spokesman. "If he doesn't want to talk about his failed record, we will. The American people expect and deserve better."
Trump has also been an outspoken voice for denying gays equal rights.