Elton John spoke with the Radio Times about his son 19-month-old son Zachary: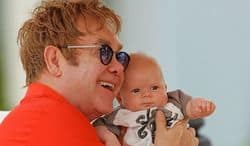 But the singer said he was preparing himself for what would be a rough time growing up for his son, who is now 19 months.
He told the Radio Times that the toddler did not yet have an inkling of his father's fame.
"I want music to be a huge part of his life. I sit him on my lap and he doesn't bang the piano. He tries to copy me but he's not formed enough yet to know what I do, thank God. When he finds out, he'll look at me as if I'm bonkers. Being the child of someone famous is a huge ball and chain around your ankles. It's going to be very difficult."
The Rocket Man singer told the magazine: "At school other children will say, 'You don't have a mummy'. We've come a long way, but there's still homophobia and will be until a new generation of parents don't instil it in their children."
He added of his son's upbringing: "It's natural for him. He calls me 'Daddy' and David 'Papa'."