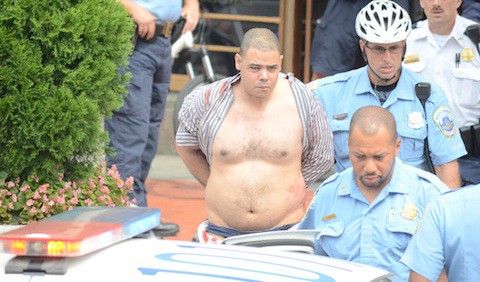 With Floyd Corkins officially charged for shooting a security guard at the Family Research Council's DC HQ yesterday, we're receiving more information not only on the crimes for which he's been tried, but also details about the shooting, including confirmation that he had 15 Chick-fil-A sandwiches in his bag, and his parents' reaction.
From ABC News:
Corkins was charged with assault with intent to kill and bringing firearms across state and was expected to appear later Thursday in federal court.

Corkins lived with his parents in Herndon and had recently been volunteering at a D.C. community center for lesbian, gay, bisexual and transgender people. He told the guard words to the effect of, "I don't like your politics" and pulled a handgun from his backpack, according to an FBI affidavit.

Besides a box of ammunition, authorities also found 15 sandwiches from Chick-fil-A, the fast-food chain that has landed at the center of a national cultural debate over gay marriage.
…
Corkins' parents told FBI agents that he has "strong opinions with respect to those he believes do not treat homosexuals in a fair manner," the complaint says.

The assault charge carries up to 30 years in prison and the weapons charge has a 10-year maximum sentence. It wasn't immediately clear if Corkins had a lawyer.
The guard who was shot in the left arm, 46-year old man Leo Johnson, is "resting comfortably" at the hospital and is being hailed as a hero by FRC president Tony Perkins, "This hero business is hard work."
For once the right wing big-wig is 100% correct.