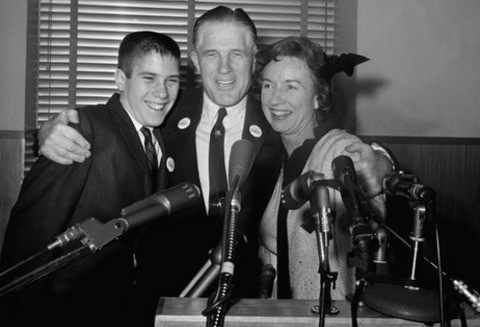 During his speech at the Republican National Convention last night, Mitt Romney tried yet again to prove to his party's most conservative voters that he's one of them. As part of that mission, he spent a considerable time discussing his parents, though mostly glossed over both of their political achievements: Romney's father was Michigan's governor and mother Lenore tried to run for that state's U.S. Senate seat.
Their political story may not have gotten big play last night, but Jeremy at Good As You reminds us that Romney's parents were instrumental in his 2002 gubernatorial campaign in Massachusetts. The following excerpt comes from a speech he gave that year, and the remarks bear little resemblance to the politics Romney has been touting this campaign:
Like [my parents], I am fiscal conservative and a social moderate.
…
Believing in people is fighting prejudice and bigotry where ever it exists, while extending an open hand to each other, regardless of color, faith, or lifestyle.
…
Believing in people is protecting their freedom to make their own life choices, even if their choice is different than yours. Accordingly, I respect and will fully protect a woman's right to choose. That choice is a deeply personal one, and the women of our state should make it based on their beliefs, not mine and not the government's.

My position has not changed. The truth is there is no candidate in this race from either party who would deny the women of our state abortion rights. So let's end an argument that does not exist and put to rest these cynical and divisive attacks made simply for political gain.
If only the same could be said for this year's presidential race.