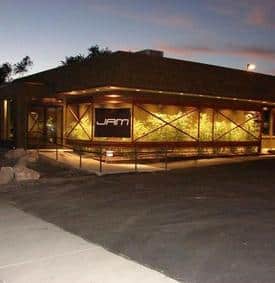 The group gathered at Club JAM in Salt Lake City early Thursday morning were shocked and awed when they were suddenly "bombarded" by "flaming projectiles," the local ABC News affiliate reports.
According to witnesses, about 30 or 40 people were together in an outdoor area when someone lobbed a flaming object over the fence.
"All the sudden we saw something bright, I thought they were fireworks on the floor," said one of the club's patrons, Fernando Noriega. It wasn't a firework, and it wasn't alone.
The crowd quickly realized [it wasn't a firework] when several more flaming projectiles went flying through the crowd.
…
While some people put out the flames Fernando and a couple of others jumped over the fence to find those responsible. Noriega said, "As soon as they saw us and we shouted at them they just went screeching down Beck Street."

Fernando was able to get a good description of the three young men and the car they were driving…
Noriega insists the unidentified perpetrators had to have known there were people on the patio. "You can hear the people; see the people so you know there are people in there. It was definitely malicious. They definitely knew what they were doing," he said.
Police are now searching for the suspects, all of whom are described as white, in their late teens or early 20s and with blond, shaggy hair, which really doesn't narrow it down very much.