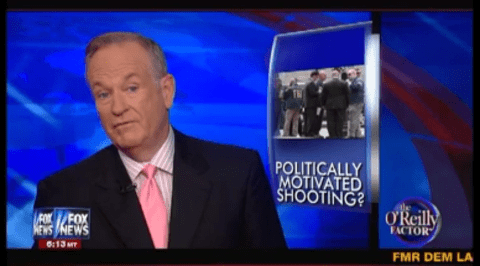 Family Research Council president Tony Perkins has again claimed that Southern Poverty Law Center and related groups played a role in Floyd Corkins' allegedly shooting a security guard at FRC's base in DC earlier this week.
"Now, Bill, let me say: the gunman, Floyd Corkins, pulled the trigger yesterday. He is responsible for shooting my colleague and my friend. But, let me say, I believe that the Southern Poverty Law Center is responsible for creating the environment that led to this," Perkins said on Bill O'Reilly's Fox News show, which headlined the segment by wondering if the FRC shooting was politically motivated.
More from Perkins' argument against SPLC: "Because they disagree with our positions on marriage and certain religious issues, [they] have labeled us a 'hate group', and that gives license to lunatics like this to come in with a gun and shoot innocent people."
Perkins was also asked about his group's association with Chick-fil-A, the conservative-run chicken franchise from which Corkins bought 15 sandwiches before heading to FRC's HQ. Perkins claims FRC and Chick-fil-A had the most frivolous of relationships, but hinted that he wouldn't mind getting more personal, especially if money is involved. "Chick-fil-A gave us $1,000 a few years ago. Far from being a big supporter of ours. We wouldn't mind having their support but they haven't been that way," he said.The conservative big-wig then brought the topic back to SPLC's list of hate groups. "In those reports, they say, 'The Family Research Council, which is a hate group, a certified hate group from the Law Center.' when you you marginalize people like that it gives license to people like this to take action."
Watch the video, via Mediaite, AFTER THE JUMP.