A gay couple is suing United Airlines after retrieving their luggage and finding a sex toy which had been taken from one of their bags, covered in a dirty oily substance, and "taped prominently" to the top of the bag, NBC News reports: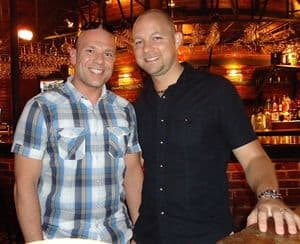 Christopher Bridgeman and Martin Borger of Norfolk, Va., are seeking damages for intentional infliction of emotional distress, invasion of privacy and negligence in a lawsuit filed against the airline on Friday in the District Court of Harris County, Texas.
"It still brings butterflies to my stomach," Borger, 35, told NBC News when recalling the episode.
United countered that it has conducted a thorough investigation and determined that there is no support for the allegations, spokeswoman Christen David said in a statement.
"United does not tolerate discrimination of any kind," David said. "We will vigorously defend ourselves and our employees."
The couple was returning from a vacation to Costa Rica:
"I knew exactly what it was when I saw it," he told NBC News. "I was absolutely and utterly shocked and embarrassed and humiliated and I didn't even know what to do at the time."
Onlookers began laughing when they saw the bag, causing the men severe emotional trauma, according to the lawsuit. Bridgeman speculated an airline employee went through the bag — which was closed with a simple zipper — found the sex toy, saw that it belonged to a man and decided to humiliate the owner.
"I absolutely, fervently believe that this was intentional," Bridgeman, 34, told NBC News. "It was very sick and it was very wrong and it was just maliciously taped to the top and targeted because we're gay."
The incident took place in May 2011.