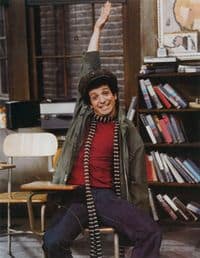 TMZ reports on the death of Ron "Horschack" Pallilo:
We're told Palillo was found by his partner of many years Joseph Gramm around 4:00 AM. Gramm called an ambulance and Palillo was rushed to the hospital, where he was pronounced dead.
We're told the heart attack was very unexpected. Palillo was 63.
According to one of Palillo's colleagues at G-Star School of the Arts, Palillo had appeared to be in good health … but was a heavy smoker. We're told he had been suffering from a bad cough and had even scheduled a doctor's appointment for today.
Palillo was known for calling out, "Ooh ooh ooh, Mr. Kotter" as one of the Sweathogs on the show … which he appeared on with John Travolta from 1975 to 1979.
Does anybody know if he was out before his death?
RIP.
Horschack's classic move, AFTER THE JUMP…