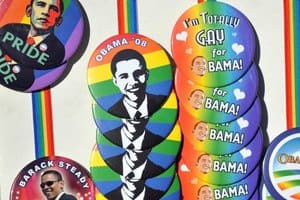 If President Obama thought coming out for marriage equality would clinch the LGBT vote, he thought wrong. A new poll shows support among self-identified LGBT voters has dropped by at least 6 points since 2008.
Via The Washington Blade:
A new national poll of likely LGBT voters indicates that support for President Obama has dropped to 67 percent, a decline of at least six percentage points since 2008.

Gays and lesbians, same as all voters, are most concerned about the economy, jobs and unemployment, according to a Harris Interactive poll commissioned by Logo TV released on Aug. 21. Only nine percent of us rank "gay rights in general" as being most important, with marriage equality rated that way by a mere six percent.

…

While two-thirds of LGBT voters plan to vote to re-elect Obama, nearly 1-in-4 would be more likely to vote for Romney if he held the same positions as the president on same-sex marriage and other LGBT issues.
It's possible, notes journo Mark Lee, that this decreased support for Obama among LGBT voters may be that many LGBT people are small business owners and that only 35% of small business owners are backing the president's reelection bid.