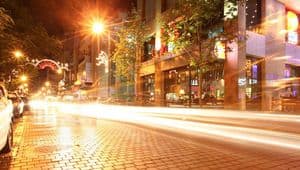 It's both inexpressibly sad and deeply ridiculous that the Human Rights Watch, the four-star charity founded in 1978 to enforce the Helsinki Accords, must in 2012 issue a press release demanding that Lebanese police officers cease performing anal probes on suspected gay men. But they must, and they have.
"Forensic anal examinations of men suspected of homosexual contact, conducted in detention, constitute degrading and humiliating treatment," said Rasha Moumneh, a Middle East and North Africa researcher at Human Rights Watch, based in Beirut. "These 'tests of shame,' as local activists call them, should stop immediately – the state has no business punishing and degrading its citizens for consensual sexual conduct."
In case you're wondering: When Lebanese cops probe your bum, they're looking for semen. The consensus among those few mainstream scientists who think about such things is that the probes are unreliable.
The issue's come up because of the police raid of a gay cinema in Beirut on July 29th, in which 36 men were arrested for peaceably watching a movie. They were all probed. Some were released post-probe; some were not. Those convicted of having performed sexual acts "contradicting the laws of nature" could be sentenced to up to a year in prison.