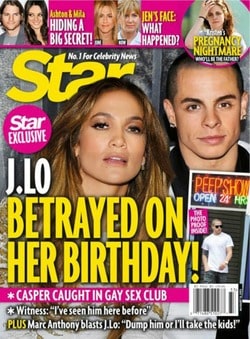 The tabloids Star and InTouch claimed yesterday that Casper Smart, the dancer best known as Jennifer Lopez's boyfriend, was caught coming out of a gay peepshow in Manhattan. Now they couple are threatening to sue the pubs.
If they follow through, perhaps they'll call four barbers to the stand: the men told the site RumorFix that Smart only went to the establishment to use the ATM.
"Four New York barbers are coming to the defense of Casper Smart, arguing that the dancer was in fact in their hair salon, not a male peep show next door as previously reported by a tabloid," the site says. "The men, who work at Diamond Cuts in Manhattan, claim [Casper] forgot to bring cash. Since they did not have an ATM of their own on the property upstairs, he went downstairs near the 'peep show' entry to get cash."
I've gone into a peepshow place solely to use an ATM, so it does happen.